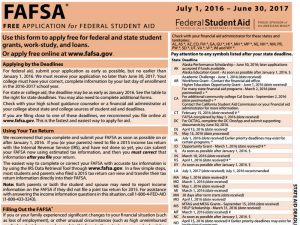 Most college student aid comes from federal student aid programs. The Free Application for Federal Student Aid, better known as FAFSA, is a document published by the U.S. Department of Education. Students use this application to apply for federal aid in order to help with college and career-school expenses. FASFA is used by colleges and career schools throughout the nation as the basis for making decisions regarding eligibility for financial assistance.
Like many states, New Jersey requires students applying for financial aid to begin with the federal application and uses FAFSA to qualify applicants for state-specific programs. For that reason, you must be certain that you complete and submit your FAFSA in time to meet New Jersey's filing deadline.
Students use federal student aid to pay for tuition and fees, room and board, books and supplies, transportation, and other related expenses.
The following are some important facts divorced parents should know if their child will be seeking financial aid:
Students can obtain the FASFA in January of their
senior year in high school.
FASFA makes the initial decision regarding eligibility,
but it does not award aid.
FASFA does not take into consideration which parent pays child support.
FASFA does not take into consideration which parent gets the income tax
exemption.
The custodial parent will be the one to apply.
FASFA considers only the custodial parent's income.
The "custodial parent" is the one with whom the child resided more than
half the time during the prior year.
If both parents share parenting time equally, the wealthier parent will file.
To get the most financial aid possible, it takes some planning ahead of time. Because FAFSA bases its determinations on the 12 months prior to filing, it is beneficial financially for the child to live with the "less moneyed," or less wealthy parent for more than half of that time. Therefore, the student's living arrangements should be re-evaluated at the start of his or her junior year. If your child is living with the "more moneyed," or wealthier parent for half the time or more, you might want to make a change.
Divorce, college applications, and applying for financial assistance are all stressful matters. The more you know and understand, the easier it becomes to deal with these issues calmly and efficiently.