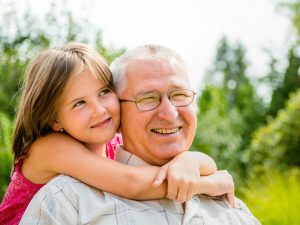 Grandparents' Day falls on September 11th this year. Since 1979, the Sunday following Labor Day has been proclaimed Grandparents' Day by every President of the United States beginning with President Jimmy Carter. While a happy day for most, Grandparents' Day can be difficult for those who are denied the right to visit their grandchildren regularly.
Applying for Grandparent Visitation Rights in New Jersey
In New Jersey grandparents may ask the court to grant them visitation rights if the grandchild's custodial parent is against it. The marital status of the child's parents does not matter, but you may not apply for visitation rights if the child has been placed into adoption by anyone other than a stepparent.
The burden of proof is completely on the grandparent, who must prove to the court that denying visitation will cause the grandchild harm.
Factors the Court Must Consider
New Jersey law states that the court must take into consideration 8 specific factors when deciding whether or not to grant visitation rights to a grandparent:
The relationship between the child and the applicant;
The relationship between each of the child's parents or the person with
whom a child is residing and the applicant;
The time which has elapsed since the child last had contact with
the applicant;
The effect that such parenting time will have on the relationship between the
child and the child's parents or the person with whom the child is residing;
If the parents are divorced or separated, the time-sharing arrangements
which exists between the parties with regard to the child;
The good faith of the applicant in filing the application;
Any history of physical, emotional or sexual abuse or neglect
by the applicant; and
Any other factor relevant to the best interests of the child.
If you have been denied the right to regularly visit your grandchild and if you believe that the situation will result in harm to that child, you should obtain the guidance of an experienced New Jersey family law attorney. That attorney will be able to analyze your situation and advise you of your rights.
Activities that Grandparents and Grandchildren Can Enjoy Together
If you are lucky enough to be able to spend time with your grandchildren, there are many activities you can enjoy together on Grandparents' Day. Call the numbers listed for more information.
Here are a few suggestions:
BERGEN COUNTY
Bergen County Zoo
September 10–11 Bear Awareness
Activities will take place between 11 AM and 3 PM.
They may include crafts, animal encounters, short programs, and exhibit chats.
Van Saun County Park is located in Paramus, New Jersey. Operated by the Bergen County Parks Department, the park is home to the Bergen County Zoological Park.
Address: 216 Forest Ave, Paramus, NJ 07652
(201) 262-3771
http://www.co.bergen.nj.us/index.aspx?NID=437
ESSEX COUNTY
Turtle Back Zoo
Turtle Back Hatchlings Program
September 11, 2016 10:00 am – 11:00 am
Age group: 6 – 24 months old with a caregiver
Time: 10:00 – 11:00 AM
The Education Center at Turtle Back Zoo
560 Northfield Avenue, West Orange, NJ 07052
973-731-5800
Description: Learn how to meet and greet some of our small, friendly animals up close in the classroom and learn how to touch animals gently. Your child will also enjoy sensory interactions with feathers, turtle shells, puppets, and more. All children must be accompanied by an adult who is prepared to take part in the activities. For everyone's safety and enjoyment, unregistered children (including siblings) may not attend.
Registration: $20 per child per class. Admittance of one caregiver included per ticket.
Advanced registration and payment are required.
Visit the zoo without taking part in the hatchling program.
Monday – Sunday: 10:00 am – 4:30 pm
MONMOUTH COUNTY
Monmouth Battlefield State Park
One of the largest battles of the American Revolution took place in the fields and forests that now make up Monmouth Battlefield State Park. The park preserves a splendid rural 18th-century landscape of hilly farmland and hedgerows that encompasses miles of hiking and horseback riding trails, picnic areas, a restored Revolutionary War farmhouse and a visitors center.
Daily 9 a.m. to 4 p.m
16 Business Route 33, Manalapan, NJ 07726
(732) 462-9616
MORRIS COUNTY
Weekend Crafting at Imagine That!!! A NJ Children's Museum
September 10, 2016 – September 11, 2016
10:00am – 05:30pm
imaginethatmuseum.com
4 Vreeland Road, Florham Park, NJ
973-966-8000
Children can make a special picture for their grandparents!
SOMERSET COUNTY
Branchburg Sports Complex
LIL ATHLETES DAY ~ OPEN HOUSE!!
Saturday, September 10th
12:00pm to 2:00pm
Offered is a schedule of events for children ages 18 months to 9 years of age.  The day will be centered around field games and activities from some of their most popular classes; Lil Kickers, Sandlot Sluggers/Sluggettes, Quick Start Tennis, Sports Stars and their new Tod Squad program!
This event is free and open to the public
908-203-1600