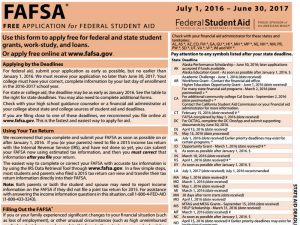 Most college student aid comes from federal student aid programs. The Free Application for Federal Student Aid, better known as FAFSA, is a document published by the U.S. Department of Education. Students use this application to apply for federal aid in order to help with college and career-school expenses. FASFA is used by colleges and career schools throughout the nation as the basis for making decisions regarding eligibility for financial assistance.
Like many states, New Jersey requires students applying for financial aid to begin with the federal application and uses FAFSA to qualify applicants for state-specific programs. For that reason, you must be certain that you complete and submit your FAFSA in time to meet New Jersey's filing deadline.
Students use federal student aid to pay for tuition and fees, room and board, books and supplies, transportation, and other related expenses.