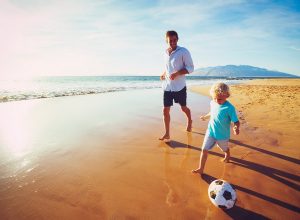 On June 19, 2016, Father's Day will be celebrated by fathers throughout New Jersey. Most divorce agreements state that Father's Day will be included in the father's parenting time. For many divorced dads, however, this will be a bittersweet day.  As much as they enjoy spending the day with their children, they are saddened that their time together is limited.
Parenting Time
For many years mothers were routinely awarded sole residential custody of their children except in extreme situations, such as violence or abuse. Recently, however, New Jersey courts have begun to consider fathers' rights to be on a par with mothers' rights. More and more frequently they have ruled in favor of joint residential custody when requested by the father.
Types of Custody
There are two types of custody: physical custody, called residential custody in New Jersey, and legal custody. Residential custody, like the name implies, refers to where the child lives. Legal custody refers to the authority to make important decisions affecting the child's life.
Residential Custody
A parent is said to have sole residential custody if the child lives with one parent most of the time and visits the other. The child generally stays overnight with the other parent only about 2 days a week or less not counting holidays and vacations. When the child visits the other parent, it is called parental visitation.
Having shared residential custody does not mean that the child lives an equal amount of time with each parent. As long as the child lives with both parents 105 days of the year or more not counting vacations and holidays, the parents are said to have shared residential custody.
Legal Custody
Residential custody allows the parent who has physical custody at the time to make everyday decisions in the child's life. Legal custody grants the authority to take part in important decisions, such as where the child will go to school, health and safety matters, religious matters, certain medical matters, and so on. Legal custody is almost always awarded to both parents; only in extreme cases where the other parent is unavailable or unfit is sole legal custody awarded.
Joint Physical and Legal Custody
This arrangement refers to the equal sharing of parenting time and decision-making. This has become more common in recent years.
Importance of Fathers in the Life of a Child
A child's relationship with his or her father can have life-long effects.
Boys learn from their fathers and often model their behavior after his. A father actively involved in his son's life can be a positive role model.
The way daughters are treated by their fathers is the way they will expect to be treated by other males.
Children look for approval from their fathers, and fathers can do a lot to instill a sense of self-worth in their sons and daughters.
No matter what parenting time arrangement is in place, fathers should take advantage of every opportunity to spend quality time with their children. By taking a sincere interest in what they have to say and in how they feel, a father can show his sons and daughters how important they are to him and how much he enjoys being with them, not just on Father's Day, but every day.
Things to Do on Father's Day Weekend
Here are some events that fathers and their children might enjoy in North, Central, and South Jersey:
Third Annual FACE Father's Day Family Fun Day, Matawan, NJ (Monmouth County)
(FACE is an acronym for Fathers' and Children's Equality)
Enjoy a variety of activities. The park has hiking and biking trails, and playgrounds. Take advantage of the facilities and enjoy fishing, kayaking, canoeing, the nature center and more.
Sunday, June 19, 2016 (Starting at 11:00 am)
Cheesequake State Park
Matawan, NJ 07747
For more information: http://www.facenj.org/upcoming.html
Fair Lawn River Road Fun Day, Fair Lawn, NJ (Bergen County)
Join the fun with lots of fun activities at the Family Fun Day. This free event features entertainment, fun activities for kids, and community displays with information and giveaways.
Saturday, June 18, 2016
11 am to 2 pm
River Road between Berdan to Fair Lawn Avenues
For more information: http://www.fairlawnriverroad.com/promotions/family-fun-day-saturday-june-18th/
Nutley's Fathers Day Street Fair, Nutley, NJ (Essex County)
This annual fair features food, live music, a petting zoo, face painting, a climbing wall and a special crafters' corner.
Sunday, June 19, 2016
10 am to 5 pm
For more information: http://www.njfamily.com/NJ-Family/Calendar/index.php/name/Nutleys-Annual-Fathers-Day-Street-Fair/event/22869/
Fathers Day Excursion Trains, Whippany, NJ (Morris County)
Climb aboard the Whippany Railway Museum's Excursion Trains and take a ride into the past!
Sunday, June 19, 2016
12:00 am to 3:00 pm
Whippany Railway Museum
Order Tickets Online
For more information: http://www.whippanyrailwaymuseum.net/eventstickets/excursion-train
MINOR LEAGUE BASEBALL GAMES WITH JUNE 19 GAMES:
Enjoy a fun day at the ball field and watch the stars of tomorrow today!
Somerset Patriots (Somerset County)
1 Patriots Park
Bridgewater, NJ 08807
For more information: http://www.somersetpatriots.com/#nav-schedule
Trenton Thunder (Mercer County)
ARM & HAMMER Park
One Thunder Road (aka Cass Street)
Trenton, NJ 08611
For more information: http://www.milb.com/schedule/index.jsp?sid=t567
Lakewood Blue Claws (Ocean County)
http://www.milb.com/schedule/index.jsp?sid=t427
First Energy Park
2 Stadium Way
Lakewood, NJ 08701
For more information: http://www.milb.com/schedule/index.jsp?sid=t427
New Jersey Jackals (Passaic County)
June 19 is an away game.
Yogi Berra Stadium
8 Yogi Berra Drive
Little Falls, NJ 07424