Fathers' Rights
Father's Rights: Are Your Parental Rights Being Honored?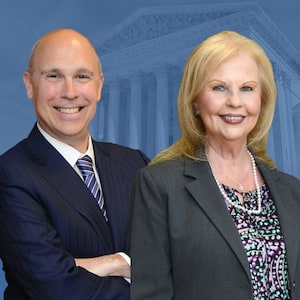 Divorce is stressful even under the best of circumstances. Our experienced New Jersey father's rights attorneys will guide you throughout the process whether you are going through an amicable, uncontested divorce or a contentious, contested one. If you do not have an existing agreement, we will analyze your situation and draft a document that best suits your needs as well as the needs of your children.
The New Jersey fathers' rights attorneys at Aretsky Law Group, P.C., understand that your children are of utmost importance to you and we will do all that is necessary to ensure that custody and parenting time issues are resolved in a favorable way. We will do our best to achieve your goals through negotiation, but will fight for your rights in court should litigation prove necessary.
Our seasoned divorce and family law attorneys stay informed of changes in the law that might affect your concerns. We understand the complex issues that often affect child custody and parenting—issues such as child relocation out of New Jersey, parental alienation, and post-divorce modifications. Whether your goal is to obtain a modification due to a change in circumstances or to prevent such a change, we will work diligently to help you achieve that goal.
The following information is designed to introduce you to the issues you will face and your various options for dealing with them. And remember, our knowledgeable attorneys are here to guide you step by step through the process.
Child Custody in New Jersey
New Jersey law requires child-custody decisions to be "gender neutral." In other words, New Jersey Courts must give men and women equal consideration when matters concerning child custody are being decided. In every case, the most important factor in the eyes of the Court will be the "best interests of the child."
New Jersey child custody arrangements comprise two parts: Residential Custody and Legal Custody. As the name implies, residential custody has to do with where the child will live and spend time. It is more commonly known as physical custody.
A parent with legal custody takes part in important decisions that affect the child's life. Among those issues are those involving the child's religious upbringing, education, and medical well-being.
Joint Legal Custody
Unless one parent is deemed to be absent or unfit, legal custody is usually shared. Joint legal custody enables both parents to participate in decision-making regarding the general welfare of the child. The parent with primary custody would make most of the everyday decisions; however, that parent should consult with the other when a major decision must be made.
Sole Legal and Residential Custody
If a parent has been given sole legal and physical custody, he or she makes all of the major decisions as well as the day-to-day ones. With this arrangement, the custodial parent is not required to consult with or notify the noncustodial parent.
Shared Legal and Residential Custody
This arrangement provides a nearly equal amount of parenting time.
The Best Child Custody Option for You
These are some factors to consider:
parents' work schedules;
child's activity schedule;
extent to which each parent travels; e.g., for work;
child-care needs;
availability of extended family members when help is needed; and
other pertinent factors.
Once you decide upon the custody arrangement you desire, an experienced family law attorney such as those at Aretsky Law Group, P.C., can explain your options and advise you on the best strategy to resolve the matter in a manner that achieves your goal.
New Jersey Parenting-Time Plans
Although you may have heard the term "visitation rights," New Jersey courts prefer the term "parenting time," when referring to the custodial or noncustodial parent. The reason is that this term better indicates that the appropriate role is that of a parent, not just a visitor.
Parenting Time Arrangements
Like all issues involving children in New Jersey, parenting plans must serve the best interests of the child. As long as this is done, however, you and your ex can structure the arrangement in any way that suits your needs. The following are some typical arrangements:
One Primary Residential Parent and One Alternate Residential Parent
With this arrangement the child spends most of the week residing with the parent who has primary physical custody. The non-custodial parent usually follows a parenting time schedule that includes having the child sleep over on alternate weekends. That parent's parenting time might also include dinner or another regular activity one day during the week.
Shared Residential Custody
Parents who share custody construct a schedule that provides equal or nearly equal parenting time for each of them. The couple can alternate weeks or they can divide the time into short blocks of alternating time. One benefit of the shorter blocks of time is that the time away from either parent is shorter. This can make separation easier, especially for younger children.
An example of the shorter blocks of time might be four days including overnights for one parent and three days with overnights for the other. Another example might be Monday and Tuesday for one parent and Wednesday and Thursday for the other parent with alternating weekends.
Sole Residential Custody
When one parent has sole physical custody, parenting time for the non-custodial parent is often limited. However, unless there is a reason to limit or prohibit this time, New Jersey courts encourage both parents to maintain a relationship with the child.
Constructing a Parenting Plan
Once you have decided on the basic structure of the parenting arrangement, a detailed plan must be created.
The document should also address issues such as where and how the parents will exchange custody; how important information about the child will be shared; who will attend parent-teacher conferences, etc.
Holidays and Vacations
The treatment of holidays and school vacations should be included in the plan to avoid conflict when these events occur:
religious holidays;
Thanksgiving and other national holidays;
Mother's Day and Father's Day;
the child's birthday;
each parent's birthday;
summer vacation;
school breaks; and
other special events.
Factors to Consider
A good parenting plan should meet the needs of the parents and the child. These factors should be considered when crafting the document:
the work schedule of each parent and whether changes are anticipated;
the distance between the parents' residences;
the location of the child's school in relation to each parent's home;
the child's school and extracurricular schedule;
the child's relationship with each extended family;
whether or not child care is necessary;
the child's medical needs; and
any other special needs and concerns.
Child Custody Modifications in New Jersey
A child's needs change with the passage of time. These changes as well as changes in the parents' lives often call for a modification of the custody arrangement or parenting plan.
When both parents want a change and agree to the specifics, then modification is easy. In that case, both parents would sign a consent order. Consent orders, are court orders and are legally binding.
If there is disagreement, then the party wanting the change must file a motion with the court. That parent must show that there is a substantial change in circumstance and that the proposed modification would be in the best interests of the child.
Change in Circumstance
These are some commonly cited changes in circumstance:
a parent has moved or is about to move;
a parent's job location or work hours has changed;
the child's educational or health needs have changed; and
the child's extracurricular and social needs have changed.
If the court deems that the requested change would benefit the child, then it will grant the motion. On the other hand, if the court decides that the modification would not be in the best interests of the child, it will not grant it.
Enforcing Child Custody and Parenting Time Orders
Your custody/parenting plan is a legal document and both parties must comply with it. Non-compliance includes these and other behaviors:
failing to show up to take the child;
making your child unavailable for the designated exchange;
blocking telephone, email and other contact;
regularly scheduling appointments to interfere with parenting time; and
speaking negatively about you so that the child resists a relationship.
If your child's co-parent is not complying with the agreement, it is best to try to communicate amicably before resorting to legal measures. However, if that does not work, then you can seek legal remedies through the New Jersey courts. Your New Jersey family law attorney can advise you as to the best course of action.
If you decide to take the case to family court and the judge finds that one parent is hindering the other from his or her due parenting time, then the court can impose penalties on the non-compliant party. (See N.J.S.A. Rev Stat § 2C:13-4 [2013].)
A New Jersey family court judge may impose one or more of these modifications:
compensatory parenting time to make up for lost time;
a revision in the means of transportation; and even
a change in who has primary residential custody.
Additional penalties might include an order to pay the other parent's lawyer and court fees; the need to attend a parenting class; or—in extreme cases—the order to comply with an arrest warrant. (N.J.S.A. Rev Stat § 2A:34-23.3 ([2016])
Relocation Out of the State of New Jersey
In August of 2017 the standard for determining whether or not a custodial parent can move out of the state with the child changed. For the previous 16 years a judge in a relocation case considered twelve factors when a custodial parent wanted to move out of the state with the child without the consent of the child's other parent. Known as the Baures Analysis, those factors were easy to meet. If the custodial parent could show that the request was made in good faith and that the move would not harm the child, then the request would likely have been granted.
Bisbing v Bisbing changed that. In her written statement for the New Jersey Supreme Court, Justice Anne Patterson noted that courts should use the same "best interests of the child" standard that is used for other child custody cases in New Jersey and many other states.
This ruling may make it more difficult for a custodial parent to move out of the state with a child without the consent of the child's other parent. Looking at it another way, the noncustodial parent will be given more of a chance to remain an integral part of the child's life.
If you are a custodial parent seeking to relocate or if you want to prevent the relocation of your child, you should seek the advice of a New Jersey family law attorney with expertise in parental-relocation cases.
Parental Alienation Law in New Jersey
Divorce is stressful for all involved. If your child refuses to see you, you might suspect that the custodial parent is turning your child against you. This may or may not be the case! Your child might just be reacting to the anxiety of not knowing how his or her life will change.
Most parents agree that except in extreme cases, such as those involving abuse, it is best for a child to maintain a positive relationship with both parents. They try their best not to do anything to hinder their child's relationship with the other parent.
Degrees of Alienation
Mild Alienation — Once in a while even the most well-intentioned parent makes a negative statement against the other parent and is overheard by the child. This is mild alienation.
Moderate Alienation — This occurs when a parent occasionally lets feelings of bitterness and frustration take over and makes disparaging remarks in front of the child.
Severe Alienation — This occurs when one parent—usually the custodial parent—intentionally turns their child against the other parent. Severe parental alienation is serious and can harm the child as well as the targeted parent.
If you believe you are the victim of parental alienation, you should contact a knowledgeable New Jersey family law lawyer.
Kidnap & Criminal Interference With Child Custody
You must take court orders seriously. Failure to comply with a court-ordered parenting plan can be grounds for contempt of court, which is a fourth-degree crime. (See N.J.S.A. Rev Stat § 2C:29-9 ([2015].)
When carried to an extreme, failure to comply with a court-ordered parenting plan can amount to parental kidnapping and is a third-degree crime. (See N.J.S.A. Rev Stat § 2C:13-4 ([2013].)
International Child Custody Disputes
The International Parental Kidnapping Crime Act makes it a federal crime to remove a child from the United States or to retain a child outside the United States with the intent to obstruct a parent's custodial rights, or to attempt to do so. (See 18 USC § 1204 ([2011].)
Defenses to Custody Interference
If you do not have custodial rights and you or your child is in danger because of domestic violence, you must contact the New Jersey Division of Child Protection and Permanency (DCPP), the local police, or the district attorney's office in your child's county of primary residence and reveal the child's location to one of these authorities within 24 hours. If you have custodial rights and are fleeing from danger, you can bring a custody action in an appropriate court as soon as reasonably possible.
Frequently Asked Fathers' Rights Questions
Contact an experienced father's rights attorney for detailed answers to these and other frequently asked questions:
How can a father get custody in New Jersey?
New Jersey courts are required to make gender neutral decisions regarding custody. The decision is to be based on the best interests of the child.
Can a father get custody of his unborn child?
New Jersey Courts will not make custody decisions regarding an unborn child. Once the child is born, either parent is free to file a request for custody.
How can a father get emergency custody of his child?
A father would go through the same procedures when seeking emergency custody as a mother. He would file for an Order to Show Cause. New Jersey Courts are required to treat the mother and the father in the same way.
How can I win primary custody as the father?
Again, the court will look at what is in the best interests of your child. You will want to show that you have been extremely involved in your child's life. Perhaps you have been the child's primary caregiver. Mention any other factors you think might help, such as if it would mean keeping siblings together.
Can my ex interfere with my parenting time if I am late with child support? No, failure to receive timely child support payments does not give a parent the right to interfere with the other parent's parenting time.
Contact a Qualified New Jersey Father's Rights Attorney
Do you need a child custody or parenting agreement?
Do you you want a modification to your existing plan?
Do you want to prevent a modification to your existing plan?
Do you want to fight for primary or shared custody of your child?
If you answered ''yes'' to any of these questions, then you should obtain the advice of an experienced New Jersey divorce attorney who understands NJ child custody laws—one who can ensure that your rights as a father are protected and the needs of your child are met. If you want primary or shared custody, we will work vigorously to help you reach that goal.
Contact Aretsky Law Group, PC for Effective Fathers Rights Representation
The experienced father's rights attorneys at Aretsky Law Group, P.C., can help you with child custody, child support, parenting time, and other divorce and family law issues. Our knowledgeable New Jersey attorneys will work vigorously on your behalf to ensure that your goals are met and your rights protected.
Contact us 24/7 at 800-537-4154 for an initial consultation.