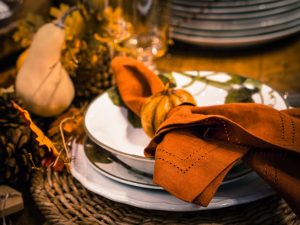 Thanksgiving is a time for sharing! But you didn't think you would be sharing your child!
Thanksgiving is traditionally a time for sharing. School children learn about the autumn feast celebrated by the Pilgrims and their Wampanoag neighbors in 1621. They may learn that beginning in 1817, individual states—starting with New York—began to adopt official annual Thanksgiving observances and that in 1863, in the middle of the American Civil War, President Lincoln proclaimed that Thanksgiving would be a national holiday. President Lincoln hoped it would be a day that all Americans would ask God to "heal the wounds of the nation."
Today an important element of our Thanksgiving celebrations is the cooking and sharing of traditional meals with family and friends as well as showing generosity to those less fortunate. Yes, sharing is an integral aspect of the holiday, but you never counted on having to share your child!
If you are newly separated or divorced, you may now find yourself in the unwanted position of having to give up some or all of your time with your child on Thanksgiving. For some, this realization can be very disheartening.
Hopefully, your holiday schedule has been worked out in a way that is fair to you and your ex and, even more importantly, a way that suits the needs of your child.
Some Sharing Arrangements on Thanksgiving
Couples share their Thanksgiving holiday time in many ways. These are some typical arrangements:
One parent gets the child on Thanksgiving Day and the other gets the child on the day after Thanksgiving. This would alternate each year.
One parent has the child for the entire Thanksgiving weekend. Who gets the child would alternate each year. While this means that one of you does not see the child at all, it may be the best plan if you and your ex live far apart.
Some choose to split the day. The child can have lunch with one parent and dinner with the other. This can be a yearly routine or it can change from year to year. Being with both parents on the same day only works if the locations are near one another.
In some cases, it might work out best if one parent always gets Thanksgiving and the other parent gets another holiday.
Although unusual, some families continue to celebrate together. This is only advisable if both parties are committed to having a conflict-free celebration.
If This is Not "Your Thanksgiving"
Here are some ideas to make the best of your situation.
Invite your family for dinner the week before or the week after Thanksgiving.
Invite family or friends to celebrate together the day after Thanksgiving if that is when your child will be with you. Alternately, begin a new tradition you and your child can share on this day.
Arrange with your ex to make your child available for a phone conversation or Skype time some time during Thanksgiving Day.
Try to remain thankful for all the good times you will be able to have with your child instead of dwelling on the time that you are apart.
Some Things to Do in New Jersey if You Are Lucky Enough to Be with Your Child on Thanksgiving Weekend
Here are some New Jersey events this Thanksgiving Weekend:
SOMERSET COUNTY
14th Annual Colonial Christmas
Friday, November 25 – Sunday, November 27
10:00 am – 4:00 pm
Jacobus Vanderveer House
995 Route 202/206 South
Bedminster, NJ 07921
The celebration begins with the Tree Lighting on Friday, November 25 at 6 p.m. The Jacobus Vanderveer House and Knox Museum will be holding an open house featuring period furnishings and holiday décor; an exhibition of paintings by noted landscape artist John Phillip Osborne (courtesy of the Stringer Gallery, Bernardsville), boutique shopping; re-enactors; Santa visits and more.
http://www.palmersquare.com/events/christmas-tree-lighting
MONMOUTH COUNTY
23rd Holiday Express Concert & Tree Lighting
Red Bank, NJ
Friday, November 25
Meet and greet Santa and Mrs. Claus beforehand at Little Silver Train Station; the train departs Little Silver at 6:44pm.
Katherine Barnett Dancers will entertain folks at the Red Bank Train Station prior to the Santa Express Train arrives in Red Ban. Bagpipers will greet Santa and all can follow in a parade up Monmouth Street to Broad Street for Holiday Express Concert and Town Lighting that will begin at 7:00pm.
http://visit.redbank.com/events.php
Make Cards for Members of the Military
The Monmouth Museum
765 Newman Springs Road
Lincroft, NJ
The Monmouth Museum annually asks for community volunteers of all ages to make cards with kind messages that will be sent to members of the military all over the world to show gratitude for their service via the American Red Cross, Jersey Coast Chapter. Come to the Museum's Green Arts Studio in the Becker Children's Wing Tuesday through Sunday, and you will find an array of arts & crafts supplies to create these special cards.
http://events.funnewjersey.com/en/events/58121f433e1e9/holiday-cards-for-heros
MERCER COUNTY
Princeton Tree Lighting Ceremony
Friday, November 25, 2016; 4:45pm – 6:00pm
On the Green, Downtown Princeton, NJ
This family event will feature live music and a reading of 'Twas the Night Before Christmas. The tree will be a 65-foot Norwegian spruce decorated over 32,000 lights.
http://www.palmersquare.com/events/christmas-tree-lighting
Toy World!
Oct 15, 2016 to May 28, 2017
9:00 AM–4:45 PM
The exhibition will showcase more than 100 toys that were made in New Jersey between 1880 and the late 1960s, during New Jersey's golden era of manufacturing. Among the featured toys are the ubiquitous green army men; the first "talking" doll, created by Thomas Edison; the classic hand-shake gag, the joy buzzer; Colorform playsets and more, all developed and produced right here in New Jersey. The exhibition also includes an interactive play area and a place to remember favorite childhood toys.
Suggested admission $5 adults, children 12 and under free
New Jersey State Museum
205 West State Street
Trenton, NJ
http://www.nj.gov/state/museum/index.html
ESSEX COUNTY
Black Holes Planetarium Show
Wednesdays, Thursdays, & Fridays at 2 pm; Saturdays at 2 & 4 pm
Few mysteries in the universe have the power and awe of the black hole. They lurk in the universe like cosmic dragons; unseen voids with the energy of a million suns. Recommended for adults and children ages 10 and up.
Newark Museum
49 Washington Street
Newark, NJ
973.596.6550
http://www.newarkmuseum.org/planetarium