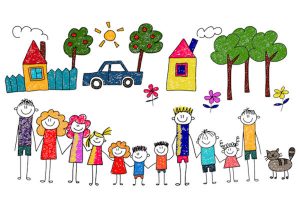 Mother's Day can be a source of difficulty for many children—especially young ones. Every year Mother's Day is celebrated and promoted across the nation, including in the curriculums of preschools; elementary schools; and other community groups. But what about children who do not have a mother who plays a role in their life? Or those who have two mothers, two fathers, grandparents raising them or another family situation?
The list of variations can go on as we recognize the changes and diversity of family structures:
• Children whose mother has died or is seriously ill.
• Children of divorce who may not see their mother for some reason.
• Children whose step-mothers also play an important role in their lives.
• Children of same-sex couples with fathers and no mothers, or two mothers in their lives.
• Children who have been adopted by single parents.
Sharing Ideas & Helpful Tips for the Family
With New Jersey family law as a focus for us at Aretsky Law Group, family, children and the greater good for all is what matters most. For this article's focus on family and children, we have comprised a collection of information that we hope will be useful, along with a list of New Jersey activity & event ideas that offers any parent or caretaker a way to focus on having fun with the kids this weekend:
• What Schools & Youth Groups Can Do to Help Protect the Feelings of these Children
• What a Child's Father Can Do to Make Mother's Day Less Stressful
• Just for the Kids: May 7-8, 2016 Weekend Outing Ideas in New Jersey
What Schools and Youth Groups Can Do to Help Protect the Feelings of These Children
Schools and other youth groups that sponsor activities for youngsters should be cognizant of the fact that holidays such as Mother's Day or Father's Day can be difficult for some kids. It is important that these caregivers are aware of each child's unique situation so that nothing is said or done that can cause the child anxiety or discomfort. These are some of the suggestions put forth by educators:
• Discuss or read stories about blended families.
• Discuss or read stories about families of same-sex couples, two mothers or two fathers.
• Elicit from the children a list of other women, besides mothers, who might be honored on Mother's Day.
• When assigning a project, such as the creation of a Mother's Day card or present, consider instructing the youngsters that they may instead choose a grandmother, an aunt, a stepmother, or another woman who is important to them as the recipient.
• If the Mother's Day celebration includes an invitation for mothers to attend an event, try to be sure that no child is left alone. If a child does not have a mother or other relative to be his or her guest, arrange for a surrogate.
• Be sensitive to the feelings of all children when planning assemblies and other events.
What a Child's Father Can Do to Make Mother's Day Less Stressful
By preparing and planning ahead, you can help your child get through the day with less difficulty and upset. Parents with children in various family situations have offered the following suggestions:
• Young children should not have to bear the burden of explaining their family make-up to their teachers or other caregivers. Try to make sure that everyone involved understands your child's unique situation in advance of the holiday.
• Find ways to allow your child to express his or her feelings. You can validate those feelings by explaining that you understand and that you will do your best to help them through it.
• If your child seems upset, elicit from him or her whether or not any bullying has occurred.
• If your child does not have a mother with whom to celebrate, plan something special for the day that can become your family's tradition.
• If you are divorced and there is no stipulation that your ex-wife has the children on Mother's Day, try to be flexible and consider offering to allow her to have them for the day even if it is your parental visitation time.
• If you are newly divorced or separated, try not to let any negative feelings you may have about your ex-spouse play a role and consider helping your young child create or buy a card and/or a gift for his or her mother.
Just for the Kids: May 7-8, 2016 Weekend Outing Ideas in New Jersey:
• Morris Museum, Morristown, NJ (Morris County) – Fresh Perspectives – All Ages
The 27th annual Fresh Perspectives juried exhibition provides artistically accomplished New Jersey high school students a professionally organized museum exhibition experience and recognizes art teachers for their development of these talented student artists. Tuesday through Saturday, 11:00AM to 5:00PM. Sunday, 12:00PM to 5:00PM.
For more info visit: http://www.morrismuseum.org/future-exhibitions-2/
• Echo Lake Park, Mountainside, NJ (Union County) – Kid's Fishing Derby – Free for Kids 16 & Under
Newark Bait & Fly Casting Club's annual Kids' Fishing Derby is held each year at Echo Lake Park in Mountainside, N. J. and is free for children 16 years of age and younger. Adults may enter for a nominal charge.
For more info visit: http://ucnj.org/
• Various New Jersey Locations – Kids Bowl Free – All Ages
Take the kids to bowl for free all summer long (and in some cases, beyond!) at various bowling alleys throughout New Jersey. Registered kids get to bowl two free games a day—and you don't have to spend a hot red cent. Score! Dates, times and locations vary; check the website and click on the alley you're interested in for more info.
For more info visit: http://www.kidsbowlfree.com/all_centers.php#NJ
• New Jersey State Museum, Trenton, NJ (Mercer County) – Discovery Den – Kids to Age 8
Explore natural history through play! The Discovery Den is a welcoming play space open to everyone but especially designed for children ages 0–8 and their care givers. Investigate fossils, go camping, create a puppet show about New Jersey wildlife or just relax with a good book. Activities change on a regular basis so there is always something new to explore!
For more info visit: http://www.statemuseum.nj.gov
• Downtown Cape May (Cape May County) – Cape May's Spring Festival – All Ages
A spring festival where attendees can admire newly bloomed flowers and participate in a host of other activities, including walking and trolley tours, wine and chocolate tastings and gallery visits. Times vary.
For more info visit: http://www.capemaymac.org/toursevents/capemaysspringfestival.html
• The Environmental Education Center, Basking Ridge, NJ (Somerset County) – Plants, Animals, and Insects – Perfect Together! – All Ages
An exhibit of the works of three individuals that covers the gamut of creatures living in and around the Great Swamp Basin. A swamp vivarium, and an environmentally based library are located within the Center itself.
For more info visit: http://www.somersetcountyparks.org
Today's families are diverse. Women in the workplace, divorce, cohabitation, same-sex marriage—all of these have contributed to the evolution of what was once thought of as a typical family. It is more important than ever to respect that diversity and to ensure that children are made to feel comfortable and accepted in their environments.