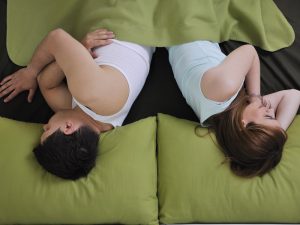 Until 2007 most divorce complaints were based on separation or extreme cruelty. The separation claim required the couple to live apart for 18 months before filing for divorce. The extreme cruelty complaint required the claimant to accuse the other spouse of specific acts of cruelty.
In 2007, however, a new statute went into effect. It added another no-fault claim in addition to that of separation—irreconcilable differences. With this change, a no-fault divorce was possible in New Jersey without the necessity of living apart before filing.
No-Fault Divorce in NJ
Neither of the no-fault grounds—separation or irreconcilable differences—requires the claimant to cite an act of bad behavior on the part of the other spouse.
Separation
The requirements of a separation claim did not change with the new statute. In order to claim separation as a ground for divorce, the couple still must live apart and separately for 18 months, and it must be apparent that a reconciliation is unlikely to occur.
Irreconcilable Differences
Other than residential requirements, there are a few conditions that must be met for a claimant to file for divorce on the ground of irreconcilable differences:
the irreconcilable differences must have been a factor for at least 6 months; • the differences must have led to a breakdown of the marriage; and
• like with separation, it must appear that there is little hope of reconciliation.
Fault Divorce in NJ
The new statute, which made no-fault divorce easier, did not eliminate the fault grounds for filing for divorce.
To file for divorce based on a fault ground, the claimant must establish that the behavior cited occurred. These are six major fault grounds for divorce:
adultery;
extreme physical or mental cruelty;
alcohol or drug addiction or abuse;
imprisonment or institutionalization;
desertion, or abandonment; and
deviant sexual contact.
Desertion and extreme cruelty are the most commonly cited fault grounds.
Most of the grounds have time requirements. For example, if your spouse leaves your home against your will, you must wait 12 months before you file for divorce on the ground of desertion.
Residential Requirements for Filing for Divorce in New Jersey
With the exception of cases where adultery is the ground, one of the spouses must have lived in the state for at least one year before filing. Adultery also requires that one spouse be a resident of the state, but the time requirement is waived.
Benefits of a No-Fault Divorce
Divorce is almost always a stressful event. No matter which ground is chosen, there are still property distribution, child custody and support, parenting time, spousal support, and other issues to work out.
Because a no-fault ground requires neither party to accuse the other of bad behavior, however, it has certain benefits:
A no-fault divorce is likely to be less contentious.
It is usually quicker and, therefore, less costly.
A no-fault divorce is probably easier on children.
When a No-Fault Divorce Is Warranted
Of course, there are some situations for which a fault ground is appropriate. The most obvious are cases of domestic violence. Victims of domestic violence must be protected. Also, if domestic violence is proven, physical custody of the couple's children may be awarded to the victim.
Seek the Advice of a Divorce Attorney
In most cases, it is advisable to seek the assistance of a lawyer if you are considering divorce. Whether simple or complex, the decisions you make can impact the rest of your life.
It is especially important to seek the advice of an attorney if you are considering a fault ground. An experienced New Jersey attorney will explain the legal consequences of claiming that ground. He or she will analyze your unique situation and help you determine the best way to proceed.