Morris County
Attorneys in Morris County, New Jersey Fighting for Your Legal Rights!
Meeting Location By Appointment Only. Call 800-537-4154 For Your Consultation.
Morris County residents who find themselves enmeshed in a personal injury lawsuit, family-related legal dispute, or any other type of legal proceeding can achieve peace of mind and confidence about facing an uncertain future by retaining the skilled and dedicated legal services of Aretsky Law Group, P.C. Navigating your way through the litigation process – much less prevailing in your case – can be challenging, but Aretsky Law Group, P.C. will be by your side at each step of the way. From the moment you retain our services, our team of legal professionals will work tirelessly to help you successfully resolve your legal matters, whatever they may be.
Morris County Family Law Disputes
When a marriage or other relationship dissolves, the results can often be messy and emotionally straining. When you are left to fend for yourself in this environment, making a bad decision that has serious ramifications for you, your finances, and your family for years to come is, unfortunately, too easy to do. Aretsky Law Group, P.C. can be the steady voice of reason and vigilant defender of your rights in a variety of family law disputes:
Morris County Divorce: A divorce proceeding in Morris County is governed by Title 2A, Section 34 of the New Jersey Statutes. When one party files for divorce, he or she can allege one of several "fault-based" reasons why the marriage should be terminated, or he or she can claim that "irreconcilable differences" have arisen that make it impractical for marriage to continue. In addition to legally dissolving the marriage relationship, a court hearing a divorce action will enter orders concerning child parenting time, child custody, and/or alimony.
Morris County Child Support, Child Custody, and Parenting Time: Every person who is found to be either the biological parent of a child and/or the legal parent of a child has a right to visit and spend time with that child and has the responsibility to financially support the child. Title 9 of the New Jersey Statutes explain the factors and tests a court will employ in deciding these difficult matters.
Morris County Personal Injury Lawsuits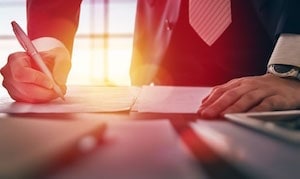 If you or a loved one have been hurt in an incident and another person's careless behavior is to blame, you may be entitled to recover compensation for your medical expenses, lost wages, and other expenses and injuries. The New Jersey Statutes, Title 2A, Section 14 requires that personal injury claims be brought within two years of the date of the accident. Aretsky Law Group, P.C. can help you in your quest for recovery following a personal injury accident such as:
Slips and falls or accidents on the property of others (premises liability);
Dangerous or defective products;
Dog bites;
Medical malpractice, wrong diagnoses, or medical neglect; and
Other types of personal injury accidents.
In order to succeed in your personal injury lawsuit, you must present sufficient evidence to show that the other person behaved in a careless or reckless manner (from an objective standpoint) and, in so doing, caused you to suffer injuries or losses. In order to meet this burden, Aretsky Law Group, P.C. will thoroughly investigate the facts and circumstances of your case to identify and present compelling and persuasive evidence and testimony to support your claim.
Morris County Auto Crash Legal Proceedings
Thousands of Morris County and New Jersey residents are injured each year in motor vehicle crashes, truck crashes, and motorcycle crashes. Very few of these incidents are true, unavoidable "accidents" – rather, many of these wrecks are the result of careless and negligent behavior such as:
Distracted driving, such as texting while driving or making phone calls while driving;
Drunk driving or driving under the influence of drugs;
Aggressive driving or willful disregard for traffic laws and signals; and/or
Driving a vehicle with defective parts.
Although many individuals receive benefits and compensation from their own insurance companies after a New Jersey car wreck (thanks to the State's "no fault" insurance scheme), sometimes these benefits are not enough to fully compensate you for the losses and expenses that accompany catastrophic car crashes. With effective representation from the Aretsky Law Group, P.C., you will be able to fully focus on your health and recovery knowing that your legal team is fighting hard for the financial compensation you require.
Speak to Your Morris County Law Firm Today
No legal matter is too big or too small that representation from an experienced and knowledgeable law firm like Aretsky Law Group, P.C. cannot assist you in receiving a more favorable outcome in your case. Aretsky Law Group, P.C. is available 24 hours a day, seven days a week to assist you. Our firm has convenient meeting locations in Parsippany and Pine Brook, making it easier for you to meet with us about your case. Call 800-537-4154 today to discuss your needs and learn how Aretsky Law Group, P.C. can help.
Morris County Meeting Locations by Appointment Only
181 New Road #304
Parsippany, NJ 07054

Phone: 973-404-0918