Ocean County Family Law
Skilled and Aggressive Family Law Attorneys in Ocean County, New Jersey Ready to Serve You!
Meeting Location By Appointment Only. Call 800-537-4154 For Your Consultation.
When marital and/or familial relationships deteriorate, parties in a dispute typically resort to a family law court to help them iron out their differences. While having a court decide issues relating to a divorce or separation, determine paternity, and/or establish child support and child visitation orders can provide parties with clarity and certainty, these are enforceable court orders – disregard or disobedience of them can be punished by the contempt power of the court. For this reason, it is important to ensure that the orders a court enters in your family law case that are beneficial to you and do not put you in a worse position and before the proceeding was initiated.
Aretsky Law Group, P.C. has decades of experience in assisting Ocean County residents resolve their family law disputes and proceedings quickly and successfully. Let us assist you: contact Aretsky Law Group, P.C. today.
Family Law Proceedings in Ocean County, New Jersey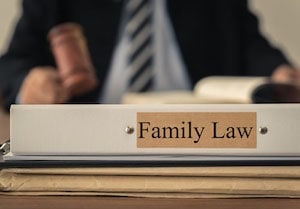 Whether you are needing assistance in finalizing an adoption or your ex-spouse and the other parent of your child has decided to seek additional child support from you, successful resolution of your case depends in large part on how well the applicable laws from Title 2A and Title 9 of the New Jersey Revised Statutes along with relevant case law are applied to the facts and circumstances of your case. At Aretsky Law Group, P.C., we help Ocean County residents with:
Child custody and visitation disputes: Each parent is entitled to "reasonable time" with their child, but it is up to the court to decide what "reasonable time" looks like in each case based upon what the court believes to be in the child's best interests;
Child support modifications: Child support is calculated according to a specific formula that takes into account the financial resources of each parent. When the financial resources of either parent change (due to disability or termination from employment, for example), the child support order ought to be appropriately modified.
Divorce: A divorce ends a marriage and separates two spouses' lives that had, up to that point, been joined together. In so doing, a court will also separate the spouses' assets and liabilities and consider whether one spouse needs the continued financial support of other. These and other divorce-related orders can impact your life for months or years to come.
Call Aretsky Law Group, P.C. Today
Take action and take control of your Ocean County family law dispute: call Aretsky Law Group, P.C. right away at 800-537-4154 and see the difference that knowledgeable and skilled family law counsel can make in the outcome of your case.
Ocean County Meeting Location by Appointment Only