Bergen County Divorce Lawyer
Divorce Attorneys in Bergen County, NJ
There are several important issues related to a divorce including alimony, child support, child custody, parenting time schedules, division of property and assets, and division of debt. Other issues can also include parental alienation, child relocation, post judgment motions, paternity, or domestic violence. Fortunately, we at Aretsky Law Group, P.C. have highly experienced Bergen County divorce lawyers to handle any and all family law cases. Not all marriages are meant to last, and when a Bergen County marriage ends one party or the other may file an action and seek a decree of divorce.
Once granted by a judge, a decree of divorce legally terminates the marriage relationship between the spouses. With nearly every state in the nation providing for some type of "no-fault" ground upon which a divorce can be obtained, some Bergen County residents contemplating divorce may erroneously believe that the process is easy. However, not only can the divorce process be complicated, but also failing to retain an experienced Bergen County divorce attorney to protect you in your divorce case can seriously affects your rights and financial future.
Family Law Attorney, Bergen County, NJ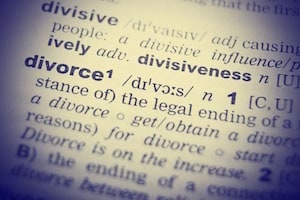 Although our family law attorneys mainly handle divorce, child custody, alimony, and other related legal matters, some also specialize in paternity, emancipation, or other non-divorce related matters. So, whether you are considering divorce, or are struggling with the formalities that come with child custody agreements, our attorneys make sure the needs of your family are met as we continue to find sound resolutions for you and your family. We aim to achieve that by taking your time and financial situation into consideration.
Affordable Divorce Lawyers in NJ
According to Martindale-Nolo Research, the average cost for divorce lawyers in New Jersey is $15,600 –with costs typically ranging from $5,000 to $34,000. Divorce cases where children are involved may cost twice as much as a divorce where there are no children to fight over for custody. It is assumed that divorces are expensive. In fact, there are plenty of jokes eluding to that. Unfortunately, having your bank account drained as a result of a divorce is no laughing matter. The good news is that it's actually possible to have a Bergen County divorce lawyer who is affordable, such as our legal team at Aretsky Law Group, P.C.
How Long Does it Take to get Divorced in NJ
When it comes to how long it takes to get a divorce, Martindale-Nolo Research reported that it takes an average of 16.5 months to finalize a divorce with the process ranging anywhere from 6 months to two years. If you are looking for a quick and potentially painless divorce, settling out of court would most likely get you there as it usually takes 6 months as opposed to nearly 24 months if your divorce case goes to trial. The best thing you can do is meet with us to find out whether a divorce that is not drawn out is possible for you. We are confident there is a way to do so as smoothly as possible. If you and your spouse have decided to get a divorce or if you have questions about the legal process, we recommend that you speak with one of our Bergen County divorce lawyers for a free consultation. Call us today at (800) 537-4154 to learn more about what the next steps may be.
Municipal Courts in Bergen County, New Jersey
Central Municipal Court Bergen County
Nearby Hotel in Bergen County, New Jersey
Residence Inn by Marriott Saddle River / Bergen County
Nearby Restaurant in Bergen County, New JerseyYour Bergen County Divorce Need not be Complicated
Legal counsel from the experienced and dedicated law firm of Aretsky Law Group, P.C. can help guide you successfully through the divorce process and enable you emerge from the process with a decree of divorce and on a solid financial footing. We will thoroughly explain the choices you will face as part of your divorce, assisting you in making those decisions that will be most beneficial to you once your divorce proceeding is completed.
Call Aretsky Law Group, P.C. at 800-537-4154 or email Mr. Aretsky at Eric@aretskylawgroup.com for your initial consultation. You may also view our firm overview, attorney biographies and our areas of practice when you visit our website at Aretsky Law Group.
Hackensack Location
Two University Plaza Dr #55
Hackensack, NJ 07601
Phone: 201-580-3411