Ridgewood Family Law
Our Family Law Attorneys in Ridgewood, New Jersey Fight For You!
Family law legal battles in Ridgewood can be some of the most grueling lawsuits and proceedings through which individuals can suffer. Unlike a criminal charge or a civil lawsuit (which are resolved within a matter of months), a family law case such as a child custody battle or paternity contest can drag on for years. Not only this, but each hearing in your Ridgewood family law case can be emotionally fatiguing as these proceedings touch upon your most intimate of relationships – the relationships you have with your spouse and your children.
Resolving the many issues attendant to a family law case in Ridgewood takes experienced and definitive action by the Aretsky Law Group, P.C. Our knowledgeable Ridgewood family law attorneys will devote their energies and resources to resolving your family law dispute quickly and successfully so you can focus on what is truly important: your family.
What are Common Ridgewood Family Law Cases?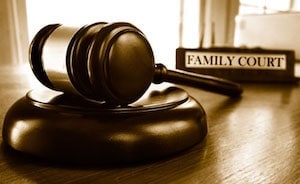 Simply stated, a family law legal proceeding is any legal proceeding in which the court's actions and orders touch upon family relationships between spouses and/or parents and their children. Some of these proceedings include:
Adoption, either by a step-parent or other relative. Adoptions involve the termination of the parental rights of one or both of the child's natural and/or legal parents (unless one or both parents voluntarily consent to the adoption);
Child custody and child support: A parenting plan that establishes when and under what conditions each parent will be able to see their child when the parents of the child are divorced or separated. Typically, the parent with whom the child does not primarily reside will be ordered to pay child support.
Paternity: Before you can exercise a legal right to visit with a child (or have the responsibility of financially supporting the child), you must be found to be the legal parent of the child. In many cases, one or more presumptions of paternity would apply and a person would thereby be presumed to be the child's father. Where there are no presumptions, however, or where more than one person possesses a presumption of paternity, litigation may be the only method whereby a child's legal parents can be determined.
Your Ridgewood Family Law Lawyer is Here for You and Your Family
Do not attempt to handle your Ridgewood family law case without first speaking with the experienced family law team at Aretsky Law Group, P.C. Call our firm today at 800-537-4154.
Aretsky Law Group, P.C.
45 North Broad St. #19
Ridgewood, NJ 07450
Phone: 201-996-0234
Hours: Open today • Open 24 hours
Email: office@aretskylawgroup.com
*location by appointment only*
(please send all correspondence
to this location)