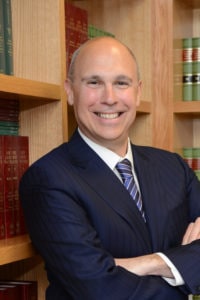 Eric Aretsky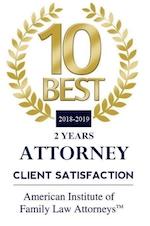 Eric J. Aretsky is co-founder and managing partner of Aretsky Law Group, P.C. Highly regarded in the legal community, Mr. Aretsky is experienced in negotiation, litigation, and mediation.
Areas of Practice
Eric Aretsky has decades of experience in divorce and family law. He understands how stressful the process of divorce can be and treats his clients with compassion, working with them from start to finish.
Mr. Aretsky uses his expertise and knowledge of New Jersey family law to obtain favorable results for his clients facing divorce or legal separation. These are among the issues he commonly handles:
child custody;
parenting time;
spousal support, or alimony;
child support; and
equitable distribution of marital property.
Mr. Aretsky has a great deal of experience dealing with the special issues involved in high-asset divorce cases. He also has expertise representing fathers who want to maintain an important role in the lives of their children.
Divorce
Eric Aretsky is a highly respected New Jersey matrimonial attorney. A skilled legal advocate, he is highly regarded by New Jersey judges as well as by his fellow divorce attorneys. He guides his clients through the complex, often stressful, process of divorce.
Mr. Aretsky represents clients in divorce and separation, child and spousal support, child custody and parenting issues, and equitable distribution. He is well qualified to handle the unique issues of high-asset divorce cases. Amongst his clients are bankers, doctors and other business executives.
Skilled Negotiator and Litigator
Eric Aretsky is a skilled negotiator and works diligently to negotiate a marital settlement that meets his clients needs and protects their rights. When necessary, he takes the case to court, where he fights vigorously to achieve favorable results.
Divorce Mediator
Mr. Aretsky is a Court Approved Divorce & Family Law Mediator, having completed the required 40 hour training program given by the Board on Continuing Legal Education. Mediation is a less contentious, more efficient way for divorcing couples to resolve the issues they face.
Eric provides mediation services in the following counties: Bergen, Hudson, Morris, and Passaic.
Mr. Aretsky is on the New Jersey Courts Roster of Mediators for Economic Aspects of Family Law Cases in Bergen County. This program was created to aid the parties in a divorce resolve difficult economic matters.
As a Mediator for Economic Aspects of Family Law, Mr. Aretsky assists New Jersey couples to resolve the economic issues involved in their divorce case.
Fathers' Rights
As a father who raised his son in a shared custody arrangement with his ex-wife, Eric Aretsky has a profound awareness of the needs of other fathers who strive to maintain the fullest possible relationship with their children. He fights vigorously to obtain favorable outcomes regarding child custody and parenting-time arrangements for his clients.
New Jersey Criminal-Defense Attorney: Municipal Court
Eric Aretsky defends those charged with offenses heard in Municipal Court. These are some of the charges he handles:
DUI / DWI;
speeding and other traffic violations;
driving with a suspended license;
drug offenses;
theft; and
shoplifting
Expungements
Mr. Aretsky assists his clients in getting their convictions and arrests expunged from their records when eligible according to recent New Jersey law.
New Jersey Personal Injury Lawyer
Eric Aretsky uses his negotiation and litigation skills to achieve favorable results for clients who have been injured as a result of another party's negligence or wrongful behavior. He represents the plaintiff in these and other personal injury cases:
car accidents;
dog bites;
slip-and-fall accidents; and
injuries caused by faulty products.
Educational and Professional Background
Eric Aretsky earned his Bachelor of Arts degree from Fordham University in the Bronx, New York, in 1987 and his Juris Doctorate form New York Law School in New York in 1990.
Upon earning his law degree, Eric clerked for the Honorable Conrad W, Krafte, Superior Court of New Jersey, Family Part, Bergen County.
In 1991 Eric co-founded the Aretsky Law Group, P.C., and has served as managing partner of the firm since then.
Memberships and Recognitions
Eric is a member of the New Jersey Bar Association and the Bergen County Bar Association. He is also admitted to practice in the United States Supreme Court.
In recognition of his accomplishments as a New Jersey divorce lawyer, Mr. Aretsky was featured in (201) Magazine.
Eric Aretsky is a past member of both the Justice Morris Pashman American Inn of Court and the Barry Croland Family Law American Inn of Court. These Inns of Court comprise devoted attorneys and judges who mentor young lawyers in trial advocacy and professionalism. Mr. Aretsky was selected to be a member of the Justice Morris Pashman American Inn of Court and the Barry Croland Family Law American Inn of Court. The American Inns of Court comprise groups of dedicated lawyers and judges whose purpose is to mentor young lawyers in "the skills of trial advocacy, civility, professionalism, and ethics."
Mr. Aretsky is a compassionate, yet aggressive litigator, well respected by others in the legal profession. A dedicated family man himself, Mr. Aretsky is committed to helping his clients and their families through tough times and legal crises.
Personal
Eric Aretsky resides in Franklin Lakes, New Jersey. As a father who raised his son in a 50-50 joint-custody arrangement, he has a deep, personal understanding of what other fathers are going through when facing the child custody and parenting issues of divorce.
Professional and Civic Activities, Honors & Certifications
Member of the New Jersey Bar Association (1991–Present), Family Law Committee
Member of the Bergen County Bar Association (1991–Present)
Member of the New Jersey Association for Justice, an organization devoted to protecting the legal rights of New Jersey citizens.
Member (former) of the Justice Morris Pashman American Inn of Court
Member (former) of the Barry Croland Family Law American Inn of Court
Court-Approved Mediator for Economic Aspects of Family Law Cases in Bergen County
Featured in (201) Magazine
Education
J.D., New York Law School, 1990
B.A., Fordham University, 1987
Jurisdictions Admitted to Practice New Jersey
Bergen County Bar Association

Professional & Bar Association Memberships
New Jersey Bar Association
Bergen County Bar Association